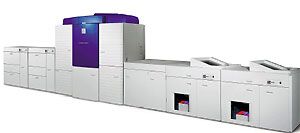 We utilize a vast array of equipment including the most current technology in our industry. Our diverse and robust equipment configuration allows us to provide our clients with high-quality products faster and less-expensively than our competition.
We realize that most people could care less about what model of offset press or brand of printer we use, so long as they receive a quality product, delivered accurately and on time.
Still, it's important that you understand just how many resources are available to you at CDS. We've provided a very short, abbreviated listing of our services for you to review.
Full Service Design and Creative Services
Variable Data Print-On-Demand.....Full Color and Black & White
Multi-Colored Commercial Offset Printing
Finishing, Bindery, Distribution & Print Management